Archive for September, 2011
Thursday, September 22nd, 2011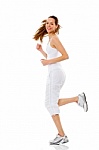 What are most people are interested in when they join a gym? Mostly they join a gym in an effort to look better and if that comes with the added bonus of feeling better and living a healthier life, all the better.
Unfortunately, however, a lot of people give up on going to the gym regularly after about a month. At the start, they're very diligent and work out at least an hour every second day (some work out for two or more hours every day), they sweat, eat better (sometimes) but… no supermodel body appears in the mirror and this can be disheartening – the change from frumpy to fabulous is often way too slow.
Could there be a reason many people don't lose much fat, change shape or get ripped and buff despite religiously going to the gym and working out? Yes, there is. It comes down to WHAT is being done at the gym. WHAT is being done is actually more important than how long it's done for. In other words, QUALITY is more important than QUANTITY (although quantity certainly does come into it – having a great workout once a month isn't going to do much). There are people spending maybe 15 to 30 minutes a day working out and getting better results (burning more fat, losing weight, sculpting and toning) than other people who work out for a couple of hours at a time every day of the week.
It's possible that the people spending less time but getting great results might be doing what's known as high intensity interval training. It's been around since 1937 but up until now, has been used primarily by athletes and not regular people. There are lots of ways to do it and a good personal trainer is probably your best bet at getting the most out of it but the idea is that you exercise at a very high intensity (if you're running, you'd sprint as fast as you can) for between 30 seconds to a minute then you'd slow it down (jog) until you recover a bit, but not all the way, then you'd up the intensity again.
You could try it next time you're on the stationary bike, stepper or treadmill – instead of sitting on a set speed, try playing with the effort and speed levels – increasing then decreasing, increasing then decreasing and so on. If you do it right you can fast-track your fitness. Remember, it IS intense, so make sure you have a doctor's OK before adding it to your routine.
Tracey Thatcher